Woodworking, just like any other craft, can be difficult to learn, but with enough skills, it can be mastered.
Just like the old adage says, practice makes perfect. And indeed, you could achieve perfection with enough practice and understanding of woodworking.
Where does real magic happen? It is the school by attending a class.
There are schools and institutions that conduct woodworking classes in New York and surrounding cities to which you can set a schedule to attend their class.
You can search for a beginner class and then progress later on as you acquire the abilities.
To help you find a class that suits your needs, we made this list of schools that offer such. Please do remember that they are not ranked in any order as it rests on your preference.
Fashion Institute of Technology
227 W. 27th St., New York, NY 10001
Phone: 212-217-5483


School of Visual Arts
Fine Arts Building, 335 West 16 Street, New York, NY 10011
(+1) 212.592.2510


Bien Hecho Academy
Brooklyn Navy Yard, 63 Flushing Ave, Bldg 3, Suite 1110, Brooklyn, NY 11205


This email address is being protected from spambots. You need JavaScript enabled to view it.




Makeville Studio
119 8th St., Brooklyn, NY 11215
Phone: (917) 873-5542


Craftsman Ave
Gowanus, Brooklyn, 117B 11th St., Btwn 2nd & 3rd Avenues
Brooklyn, New York 11215


Brooklyn Workforce Innovations
621 Degraw Street, Brooklyn, NY 11217
P: 718-237-2017; F: 718-237-5366


Staten Island MakerSpace
Sunset Park, Brooklyn, 140 58th St Building B, Unit 1C
Brooklyn, New York 11220


Purchase College
735 Anderson Hill Road, Purchase, NY 10577, USA
(914) 251-6000


The DIY Joint
51 Harrison St #A207, Hoboken, NJ, 07086
Phone: (201) 273-9137


Mokuchi Woodworking Studio
Orange County, 18 Kestler Ct., At Berme Rd
Port Jervis, New York 12771


Manifesto
Gowanus, Brooklyn, 461 3rd Ave
Btwn 9th & 10th Streets
Brooklyn, New York 11215


Fashion Institute of Technology
Chelsea, Manhattan, 227 W 27th St
Btwn W 27th & W 26th St
New York, New York 10001


SPark Workshop Brooklyn
140 58th St., Building A, Unit 5N-1, Brooklyn, NY 11220
(917) 548-7487


Banner Hill School of Fine Arts and Woodworking
741 Mill Street, Windham, NY 12496
Phone: 518-929-7821


Maplewood Center for Common Craft
158 Windy Hill Rd., Greenwich, NY 12866
Phone: 518-290-0322


New York School of Fine Woodworking & Woodcarving
74 W. Hoffman Ave., Lindenhurst, NY 11757
Phone: 631-225-1666


School for American Crafts
Rochester Institute of Technology
1 Lomb Memorial Drive, Rochester, NY 14623


This email address is being protected from spambots. You need JavaScript enabled to view it.





Deborah Mills Woodcarving
Long Island City, Queens, 43-32 22nd St Studio 204-1
Long Island City, New York 11101


Mohawk Valley Community College
1101 Sherman Drive, Utica, NY 13501
315-792-5400
1101 Floyd Ave., Rome, NY 13440
315-339-3470


Buffalo State SUNY
1300 Elmwood Avenue, Buffalo, NY 14222
(716) 878-4000
Choosing the best woodworking school or class can be hard, that's why we made these criteria in selecting to help you find the right one that fits your time or requirement.
Download This Collection of Woodworking Plans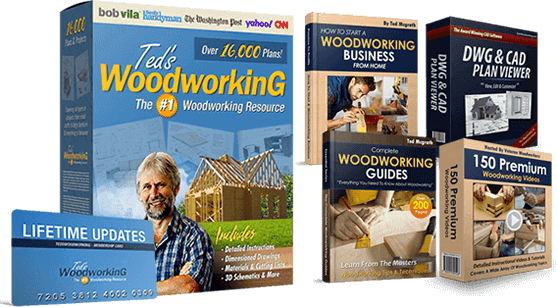 How to Choose the Best Woodworking School or Class Where You Can Enroll
If you have always been captivated in the art of woodworking, then there cannot be any better mean to pursue your interest by joining a woodworking class, New York has a lot of schools you can enroll at, as mentioned above.
But not all schools are created equal, hence, doing your assignment prior to contacting a school will save you time and money. Here are some of the criteria that you can follow when choosing a woodworking school or class:
• See what's the campus like. You can personally visit the school and observe what facilities and training equipment do they have. See if they're modern and up-to-date. You would not want to enroll in a particular school with out-of-date and old training facilities.
• Ask what subject does the school teach? If you want to learn furniture making, then go to the school that specialized on that particular subject. This ensures that there will be emphasis and technical excellence in your particular field of interest.
• How many students are there in a particular class? One of the things you must aim at enrolling in a class is the personal attention you would receive. You cannot get this if the class is crowded with students. If you are choosing a class to join, find the one with a low students-instructor ratio. 12 students per class would be the ideal number.
• Find a class that matches your skill level. If you have no woodworking experience whatsoever, choose a class that is designed with a beginner like you.
• Find a school that has basic to advanced courses. If your initial plan is to join a beginner class such as a workshop, it would be helpful if you enroll in a school that also offers intensive and comprehensives courses so that you can advance your education later on.
• To get much value for your tuition, find a school with an experienced instructor who can impart theoretical and practical knowledge and skills. It is strongly recommended to find an instructor who's excellent in that specific woodworking field you are interested in. You may ask the school about the instructor's teaching background.
• A school with a generous cancellation policy would be great to join in. In the unfortunate event that a class is canceled by the school for whatever reason, it would be great if your preferred school has a cancellation or refund policy. Select the one with such cancellation policy.
What You Should Wear in the Class
Working with hand and power tools is not without risk. It is, therefore, an absolute necessity to wear proper clothing to be safe while taking the class.
You need to wear shoes with no open toes; it is not allowed for students to wear baggy sleeves or frilly clothing that could get caught in the power tools or machinery.
If you have long hair, it would be safe to tie it up for the meantime while in the class.
A pair of clear safety glasses would be necessary, while an apron would also be needed. When using a lathe that generates a lot of wood chips, a pair of safety glasses is not adequate, a clear face shield is wise to wear.
When working with a loud power tool, it is advisable to wear hearing protection. You can have earplugs or an earmuff to protect yourself.
There could be circumstances that you will be working with a sander and other power tools that produce a lot of dust. A high-quality dust mask is an absolute necessity to wear to prevent dust particles from entering your lungs.
During spraying of paint or wood stain, wearing a respirator is essential to protect you from inhaling fine particles of these chemicals.
What are the Things You Would Learn in the Class
The class would start with advocating the students about safety in the shop. It is a top priority before starting commencing the class. This is because, in any woodworking class, everyone will use hand and power tools that post risk when improperly utilize.
The instructor should also give some specific details and information about different types of woods, which is easier or harder to work with and what particular one is ideal for the project you will be creating.
The hand and power tools and machinery that will be used to complete the project will also be tackled. The instructor will explain what a particular tool does and how can you optimize its use.
Accurate measuring of the wood and doing simple math to come up with the right measurement is absolutely necessary, this topic will explain to you further in the class.
Tips and other instructions in painting or staining, topcoat finishing with varnish shellac or polyurethane and wax, will be given in detail.
Finally, a good class will teach you to pay attention to details so that you could finish a beautiful project, and not take a short cut that usually causes flaws and errors.
How Much Do Woodworking Classes Cost
I cannot come up with an exact figure of how much it would cost you to attend a woodworking class because there are many variables that go along with it.
One of them is what type of class you would like to join in. If you are attending a workshop for a week or two, that would only cost a small amount. But, if you would like to take a longer and more comprehensive training course, it could cost a small fortune.
Other things such as personal protective equipment, if those are not included in the tuition, will cost you some amount. PPEs such as a dust mask, face shield, apron, earplug/muff, and a respirator are absolutely required.
And finally, the skill level you have plays a vital role in how much you would pay for joining a class. If you are taking a beginner's class, it would cost less compared to taking advanced courses.
Is Woodworking a Good Career
Not sure which path to take? Is woodworking an appealing but not sure is this would benefit your career in the long term? Being a woodworker will always be a good job to get into.
The job outlook of a woodworker across the country, in general, is projected to show a demand for this profession. If you have extensive experience under your belt and have the ability to use computer-controlled machinery, you should have a good chance to receive a fat paycheck.
The following are types of woodworkers that you could be: cabinet maker, furniture finisher, wood sawing machine setter, bench carpenter, the list goes on and on.
Salary of Woodworkers in New York
If you make woodworking as a profession, you would be asking how much do woodworkers make when working in the state of New York.
Well, according to the latest February 20, 2020 report of salary.com, the average salary of woodworkers in this state is $49,547 but depending on some factors, it could range from $40,658 up to $61,546.
If you are considering to become a woodworker or planning to shift into this career, taking a much longer training will be beneficial to obtain the knowledge and practical skills in working with wood.
Doing an apprenticeship is a great way to learn the craft also. As an apprentice, you will work with a professional woodworker while getting the much-needed experience. Taking an apprenticeship program is, of course, an advantage to you since you will get paid while on the training.
When you finished the program and exhibited competence, theirs is this chance your employer could take you for full-time work.
To Make a Conclusion
If you are unemployed and looking to enhance your skill in the field of woodworking, you can take a woodworking class in New York. The program these schools offer is for every level of experience.
You will learn to work with hand tools, woodworking equipment, and power tools, do the math and accurate measurements. You will do cabinet making, woodturning, and many others in your field of interest.
So, what are you waiting for? Find a school and enroll in the class.