For those who love woodworking, I don't have to tell the feeling of satisfaction it gives us. The sense of creating something useful and beautiful from something that is ordinary or dirty, it gives a good sense of accomplishment.
You love woodworking so much; you might be considering being a woodworker as a career. You can definitely make a living from being a woodworker.
Woodworking is an evergreen profession and a fulfilling hobby that you can get into. Whatever your intention may be, you will need to attend a woodworking class to acquire the fundamental knowledge.
Probably, the most basic question I've gotten is how to start woodworking. The real magic happens in the school.
If you are looking for a class, here are some of the woodworking schools in Nevada that offer superb and quality training:
Woodworking Source
9736 S. Virginia St. Unit D, Reno, NV 89511
Call us at (775) 624-9174


Nevada Woodchucks
405 Western Road #36, Reno, NV
Phone (775) 241-3872


University of Nevada, Reno
1664 N. Virginia Street, Reno, NV 89557
Classes held at 450 Sinclair Street Reno, Nevada 89501
(775) 682 8613


Western Nevada College
2201 West College Parkway, Carson City, NV 89703
(775) 445-3000


Brent Howard Woodworks
Serving Bullhead City and the Surrounding Area
(562) 726-8852


Unique Woodworking
4755 Nevso Suite #9, Las Vegas, NV 89103
Phone: 702.220.6881


Wood It Is
2267 W Gowan Rd, North Las Vegas, NV 89032
Phone: (702) 631-1870


Woodworker's Emporium
5461 Arville St., Las Vegas, NV 89118
Phone: (702) 871-0722


Legacy Woodworking & Design
175 Cassia Way, Henderson, NV 89074
Phone: (702) 301-5697


Heart Wings Art Gallery
2410 N Decatur, Las Vegas, NV 89108
Phone: (702) 817-3822


702 Woodworks
4410 E Boston Ave, Las Vegas, NV 89104
Phone: (702) 427-5187
Download This Collection of Woodworking Plans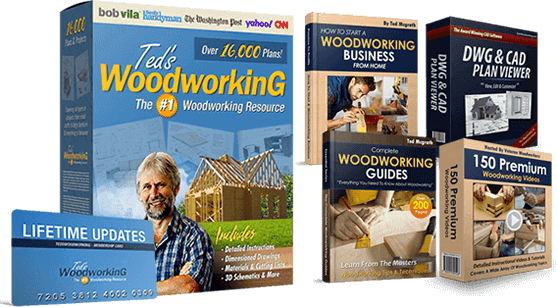 How to Choose the Best Woodworking Class or School
To avoid the mistake of enrolling in a not-so-good class or school, here are the criteria you can follow when selecting:
Find a class with a small number of students. With fewer students, you will be assured of more personal attention and one-on-one coaching from the instructor. Sure, you could a big class, but it is not for your advantage, so choose a school that has a number of students per class.


Choose a school with experienced instructor. it is essential that the instructors are not just good at teaching, they must also be able to impart techniques and practical skills to the students. It would pay off if you ask the instructor's background.


Choose a woodworking school with the cancellation policy. Signing up for a class is a commitment to your part. Now, in the event you want to cancel the class, choose a school that has a good cancellation policy so that the school would not forfeit much of your tuition.


Find a school that offers a financial program (Federal Financial Aid, GI Bill, etc). If you are a student that qualifies for financial aid, it would be great to find a school that offers such a program to defray much of your expenses. You can ask about the financial program the school offers prior to enrolling.


Find a school that provides employment assistance. If your plan is to get a job as a woodworker after completing the program, choose a school that offers such assistance. They have a registry of employers who are looking for talented woodworkers like you.


Find a campus or school that has modern training facilities and tools. Those notable woodworking schools in Nevada obviously have a large training facility and modern equipment to provide the students with the best quality education.

How Long Does It Take to Complete a Woodworking Class or Course
Of course, that depends on the type of training course you want to take. There are several woodworking programs you can enroll in: A workshop that only lasts for around a week or two depending on the students, while the lengthier programs are intensive fellowship and community classes.
If you opt to take the intensive program, expect to finish it in 6-9 months. It covers furniture making, turnings, carving, and other applicable woodworking skills.
If you are enrolling in the program, it would be helpful for you to choose a class with few numbers of students for you to receive that much personal attention and focus during the training duration.
The woodworking course is for everyone, usually, the school offers a class for absolute beginner, advanced, and professional woodworkers. Find a course that is appropriate to your skill level.
What Power Tools Do You Need as a Beginner Woodworker
If you are asking what tools do you get when getting started with woodworking. Actually, there are two sets of tools do you need power tools and hand tools. Let's go stick first to basic power tools:
A circular saw is a must-have
I am a big fan of cordless tools; it is super convenient not having to drag around a power cord and the power cordless tools deliver is pretty comparable to corded tools. So, I recommend getting a cordless one. It doesn't matter what brand you want to get; the bottom line is it should fit your budget. If you have a brand in your mind, do a research first and assess if that brand works for you.
A circular saw is one of the versatile tools you could use in the shop, it is great for ripping sheet woods and solid lumber as well. You can do cross-cutting, you can even cut a circle with a circular saw if you have the right jig to the job. It is a mobile tool you could lay your hands on, you could bring the circular saw to the workpiece rather than to having to drag it up to something like a table saw.
The other power tool you will need is a good drill
It is one of the useful tools that you will frequently use when building a project. A good drill will allow you to drill holes and will allow you to do a bit of joinery.
Drilling holes is one of the tasks you will do in woodworking, as a matter of fact you will use a drill on every project to drill holes. So, it is a good idea to get a drill. I highly recommend getting a cordless drill for the same reason as above.
One of things to consider when buying a drill is that if you have a shop with concrete walls, I strongly suggest getting a hammer drill. This type of tool has a mode that is intended to drill into masonry. Hammer drill does the job of hammering the concrete while drilling, thus it allows you to drill into concrete much more conveniently.
A router is one of the multi-tasked tools you can use in the shop
You can do jointing, trimming, crossed joinery with this tool. A lot of beginners think that a router is for edge treatment but there so much other uses with a router. And if you build jigs to support the router, you can increase the amount of jobs you can do with a router.
A fixed router is good, but I recommend getting a plunge router. A plunge router will allow you to do more things in terms mortising and things like that.
I also do recommend a buying a random orbit sander

A woodworking project will always involve several stages among of which is sanding. Sanding is a very important to prepare the piece to become smooth and appealing finish and also it gets the piece ready for painting or staining, depending on what you want.
In this case, as a woodworker, you need to have a reliable sander. An orbital sander will surely do the job. An orbital sander is a handheld power tool you need to have in your shop. What I like power about this power tool is that the sanding blade delivers a random orbit action and use a sandpaper disc and may include an integrated dust collector.
You cannot finish a woodworking project without a good sander. If you're getting a sander, I suggest the orbit sander.
An impact driver will also be handy in your shop
An impact driver works best especially in tandem with a drill this is because you can drill a hole with a drill and drive your fasteners with an impact driver.
If you never use an impact driver before, I highly encourage you to use one it will surely ease the job. Just like other power tools, it has a variable speed setting so that you can adjust the speed when working for example with a fragile screw such as a brass screw.
You will also need to cut curves, this is where jigsaw comes in handy
A jigsaw uses a small blade with up and down motion. The thin size of its blade makes it easy to cut tight radiuses and it will do the job of cutting holes that the band saw can't do. Its only limitation is that you cannot cut a very thick lumber.
I do a lot of curve cutting with a band saw, but can also use a jigsaw for most of curve cutting. It doesn't have to be a high-quality jigsaw, because a lot of the time that curves, you sand them afterward to clean them up.
A jigsaw is a versatile that takes up no space and it very affordable compared to a band saw. After spending years in woodworking, I can say that you will use a jigsaw more and a band saw less. It is that handy to have a jigsaw in your shop!
Hand Tools for Woodworking
If the job doesn't require power tools, then a hand tool will surely do the job, here are some of the beginner hand tools:
A pull saw is very useful in every project
A pull saw comes in many shapes and sizes, but what I like about this tool is to have two different sets of teeth. The finer ones are for cross-cutting and the more aggressive teeth are for rib cutting. This tool, since it has no spine and flexible, it is a great use for flash trimming as well. But if you those ones with has a spine, it is good for hand cutting dovetails.
Without a good set of chisels, your shop would not be complete
Chisels are, of course, one of the very useful tools a woodworker must have, as a matter of fact, you cannot finish a good project without them besides. It is handy for creating holes in the middle of the hard wood or shaving down the rough edges that power tools cannot do.
Chiseling is one of the tasks you will do. What a woodworker will do with a chisel is forcing the blade into the wood material either to cut it or shape it. A good set of chisels will sure be important to spick and span the project. I don't want to mention a particular brand to buy, it all depends on how much budget you want to spend on a good set of chisels.
Having a block plane probably not much a surprise to have
This will surely be the most-used hand tools every woodworker would tell you as it has many purposes. I still use a block plane a lot in every project I do.
A properly adjusted block plane will allow you to peel a very thin shaving from the wood being work on leaving its surface smooth and of unmatched quality. A block plane does many tasks, some of them difficult to do with a power tool.
With a block plane, you can do erase mill marks, square up small stock, bevel an edge, plane to a line, and the most basic is sharpen a pencil, although there are many other uses.
To Conclude This
Finding the right woodworking class in Nevada should not be hard. We've laid down the criteria you can follow in choosing the best one. You just to find the school has tuition that fits your budget.
We wish you good luck in taking this workshop!
Cities of NV
Boulder City, Wells, West Wendover, Winnemucca, Caliente, Carlin, Carson City, Elko, Ely, Fallon, North Las Vegas, Lovelock, Mesquite, Reno, Sparks, Fernley, Henderson, Las Vegas, Yerington