If you're a beginner or someone who wants to shift career the first question that might be spiraling in your mind is how to become a carpenter even with no prior experience. We will try to answer that question and will provide you the best possible paths to get into this profession.
But first, remember this: being inexperienced doesn't mean you can't become a qualified carpenter. Aside from having the right attitude, which makes you far more valuable, you also need to have the skills. That's what we're going to discuss here - getting the education so that you can be a carpenter even you don't have the experience.
Here are the paths you can take:
The first route you can take is completing an apprenticeship program. By being an apprentice, you will be able to get practical experience from a journeyman by working alongside with them. You will be able to work with journeymen and experts in the field. Carpentry isn't a kind of craft you can learn overnight or even in months. It takes about three to four years to complete an apprenticeship at a union or guild. By being an apprentice, you will be working in an environment where you are practicing different carpentry tasks to hone your skills with the direction of professionals who know what they're doing.


The other way to become a carpenter is to find work as a laborer or as a carpenter assistant and then climb your way up as you begin gaining the skills and experience. Working alongside other carpenters will enable you to learn technical skills and hands-on techniques. By being an assistant, you supplement your learning by taking a carpentry training program. This may be the shortest way you can take if you want to be a carpenter but this doesn't compensate you much because as an assistant you make much less money. Just like taking the apprenticeship training, you learn while on the job.


You can also take carpentry training offered by a community college or by a trade school. See if your local community college or technical school in your area offers carpentry classes. The school will teach you how to safely operate power tools and work with manual tools such as saws, hammers, and drills. Such classes offered by these schools usually last for several weeks or months that will teach you the fundamentals of carpentry and will allow you to get some experience needed to get into this trade.
If you are willing to put the time, effort, and hard work you could be the sort of person to be a carpenter. It is something that doesn't happen overnight, it is something you have to work out. You need to be enthusiastic, love what you do and have the right attitude are what it takes to be successful in this type of job.
Requirements to Become a Carpenter
Aside from what I mentioned above, it is also important to note that there are some soft skills and basic qualifications you need to have to be a carpenter. The list below indicated some of the basic requirements:
Having good physical conditioning is very important. This job requires you to be on your feet most of the time doing physical work. You need to have a strong body and strength to succeed in this job.


You also need to have excellent hand-eye coordination since you will be using manual and power tools that require you to have a good eye to avoid getting injured and get the job done.


You need to have attention to detail and have problem-solving skills. To do this, you need to good at math because the right measurements are required to avoid damaging the materials.


Since you will be working with a wide variety of tools and machines, you need to be able to safely operate these tools and maintain them in good working order.


You also should have good communication skills and comprehend to understand what the project requires. It is a skill useful for carpenter since you will be working with clients, superiors and fellow carpenters.


You need to have a variety of skills that may be specific to the type of carpentry work you want to be doing. For example, if you want to design a kitchen cabinet, you may need some creativity in creating such a work of art.



You need to be able to follow instructions and a willingness to work hard is always required.
Download This Collection of Woodworking Plans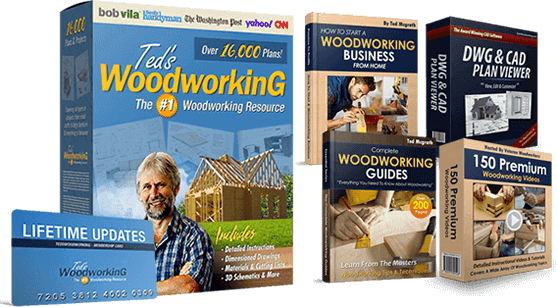 Is Becoming a Carpenter Right For You?
Being a carpenter is a type of job that is often rewarding not only financially but also professionally because you have the job satisfaction that extends to your personal life. You may be attracted by the money you can make as a carpenter, but is it really the job you want to do? This question may be difficult to answer that's why you've stopped at this moment and thinking if it is right me. I cite some factors below to determine if carpentry is the occupation you want to pursue:
This job is physically demanding and requires someone to be in good shape. You will fit staircase, laying wooden flooring, carry stacks of wood and bag of concrete, you are involved in many different kinds of construction. The job is often perceived as "very physical" because you are on your feet throughout the day. So yes, being a carpenter can be very hard. If you don't mind working outdoors and do physical work, this could be the type of job you want to do.


You will work with wood and create something useful. Depending on the type of carpenter you want to do, you make masterpieces made of wood. If you want to create a cabinet, your artistic side should come out. While in residential carpentry, people know what carpenters play in building houses - cutting, shaping and fastening wood and other materials. That's only some examples. They perform a wide variety of tasks as well.


Working as a carpenter is challenging in the send that you need to solve problems and it requires a deal of creativity. You also need to pay attention to detail and do a precise measurement to avoid the materials being cut from getting damaged.

While there are a lot of positive points to persuade you into entering this career:

Construction is constantly booming, there are labor shortages. The demand for skilled trade like a carpenter is not expected to grow but continuously in demand. This is good news for entry-level individuals to make a good starting salary and to rise through the ranks.


The pay is great. You can expect a yearly salary of $60,000 depending on some factors. The job outlook is also good. The employment of carpenter is projected to grow 8 percent from the year 2016 to 2026. You can find work in construction, the biggest sector employing carpenters.
If you love woodworking and working with your hands, you should pursue a career in carpentry. Don't push yourself into something where you based your decision on money. You need to align yourself with the nature of the job. I have confidence with the points I said above that you will be able to arrive at a conclusion and determine if becoming a carpenter is right for you.
How to Get a Job Even You Don't Have the Experience
First and foremost, tailor your resume and make a cover letter that fits with the job description. This is where you highlight the carpentry training or apprenticeship you've taken and the internship and on-the-job training completed. Also, feature on the resume the soft skills you have that can positively contribute to the job. You need to sell yourself, you do this by honing a detailed resume and cover letter. There is a myriad of ways you can do this but make sure you have what you've written.


Make a list of people who can potentially help you find a job. Network with your colleagues and ask if they know some companies with openings. If you personally know the person, you can immediately send personal messages and start asking him of any company that is hiring candidates even with no experience.


Find a job placement agency that could help you find a job. Employers and job agencies are fairly well connected. Working with a job agency is simply telling them that you need a job, they will then basically search their records and find if you fit in the opening. When I was starting and don't have any experience yet, the agency is the one that helped me find my first job. They can support you on your job search and even coach you on career guidance.


Get the education and complete the carpentry training course. Perhaps, employers may be telling you don't have yet enough experience for the job, prove to them that you have some to offer. Show them your certificate and other qualifications and that you've had the formal education, you just need a break to earn experience. If the employer knows that you're persuasive, they might hire you for your good attitude.
You may be constantly being turned down because you don't have experience yet, with the tips I mentioned above, I hope have helped you get a job as a carpenter.
To Make a Finalization
If you think it is impossible or at least hard on how to become a carpenter with no experience, no it is not! It can be hard, in the beginning, to get your foot on the door without the right knowledge and education. I've been in those situations many times before when I was starting many years ago. Invest time into taking carpentry training if you want to pursue this career. Having the right attitude and employing the proper skill work best if you have both.
We wish you good luck on your journey of becoming a carpenter! Always be encouraged!