Many men (and women) nowadays are interested in trying their hand at running a woodworking business. Some of these people could already have some experience in woodworking projects, purely from a hobbyist's point of view.
So, going into the woodworking industry could be the next logical step for them. But going into woodworking for profit doesn't come cheap.
How Much Do I Need to Invest at the Start?
If you are looking for a ballpark figure, try coming up with $20,000 at the beginning. This will help you apply for the necessary permits from the government first. After that, check if you can convert your garage into a woodworking studio too.
This will help you to save money since renting another location may be too expensive, especially if you will be working as a startup with no fixed customer base as a beginner.
There are other costs involved as well such as the following:
How Much Do the Tools and Equipment Cost?
You may acquire tools and equipment for woodworking for $10,000. You can take that out of the initial startup investment mentioned above, or you can use a new source of money. Check if the equipment comes with a warranty so that you can claim if it suddenly breaks down or malfunctions.
How Much Will I Need for Marketing?
Some people prefer to market themselves to familiar people only. This might be a bit too small if you are running a business. So, why not expand your reach?
Another $10,000 will be needed for your marketing efforts. That means spending on social media direct marketing campaigns. Or, if you prefer staying local, you can try printing out fliers or brochures and distributing these to your potential clients in nearby neighborhoods. You can do both of these marketing strategies at the same time as well if you like.
The key is to show people that you have a valuable service that they can avail of. You need to make sure that you can meet their need for valuable wooden items such as furniture or house doors. And you also have to prove that you have the skills necessary to churn out pieces that are beautiful yet functional at the same time.
Plus, it is essential to keep your service affordable. This awareness of pricing will help you survive, especially if there are competitors in the same location you're in. You might have to offer a discounted service rate first, to get people curious enough to try out your service. That means selling at a loss for some time, but at least you're selling, and people will be amazed by your level of skills.
Who Will I Be Competing Against in This Industry?
Generally, you will be competing against three major forces in woodworking. These are:
Manufacturers of furniture and other wooden necessities who rely on steel, aluminum, and plastic for their products
Low-cost labor of factories in China, Taiwan, and Korea
Big companies that rely on aggressive business schemes to edge out smaller competitors
If you want to survive this kind of competition for woodworking niches, you need to prove that your service is superior to these yet remains affordable for the ordinary American. So that's quite a balancing act for an entrepreneur like yourself, but it is possible to survive in this niche.
How to Survive the Competition with the Right Woodworking Plans
If you want to survive despite a highly competitive industry, your woodworking skills have to be impeccable. This is where the right woodworking plans have value. You need these plans since it will show how an item is made without much wastage of materials, time and effort.
This is why newbie woodworkers apprentice themselves to experienced and highly skilled woodworkers. The newbies want to absorb as much of the latter's skills as is humanly possible because they know that is how they will become better woodworkers. And in a cut-throat economy, it is the more highly skilled workers who stand to gain the most.
Those who have so-so skills will be edged out by the customers themselves who insist on high-quality service. This means you really have to invest in woodworking plans.
Get Woodworking Plans for Every Project, Download This Collection: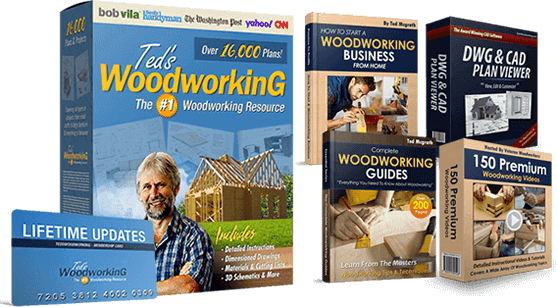 Ways to Save Money in Starting the Business
Now that you know how much it costs to set up your own woodworking business, you need to learn how you can save money as a startup. Here are some ideas:
Lease Your Woodworking Equipment – This means you don't buy brand new equipment at the start (unless you are confident you have enough funds for that). If you know how to discern between great second-hand equipment and lousy junk, this would be a great way to save much money while you're still trying to gain more customers.


Acquire New Woodworking Equipment with Your Savings – Since you leased equipment at the start of your business history, you may soon be able to buy brand new equipment for your biz. That's assuming you have a steady stream of customers beating a path to your workshop door. Saving money in one business expense may bring blessings that you were not aware of when you set about putting up your company.


Be Thrifty with Materials – Some people are very conscious of the need for thrift. This will benefit you in the long run since you will measure everything well to avoid unnecessary waste. Even your waste materials might have some use, too, including those smaller bits of wood that get discarded through each project. The savings you reap here can be kept in the bank as a "rainy day" fund when business is slow, but you still need to pay for things.


Learn What Your Market Wants – It is normal to want the best but to survive as a woodworking entrepreneur, you need to deliver what your market is looking for, not what you like in wooden items. For example, as an artisan, you love the look and scent of quality wood, especially when you transform them into works of art that command a high price tag. But your primary market might be looking for lower-priced furniture that is still functional and doesn't look that bad. So, you have to deliver what your market is seeking so that those precious dollars wind up in your bank account, not with your competition.


Train Your Staff – You might be thinking now, "Oh, I can't afford to hire helpers. I just set up my new company. Besides, I can do everything by myself." This kind of thinking is the mantra of many small business people who cannot grow the biz because they are holding tight to their money. But hiring the right people will actually pay off in the long run because you can go after those bigger clients who want bigger woodworking projects. Your workshop assistant will clean up at the end of the day, leaving you some breathing room to assess the business' performance. Your junior woodworkers can be trained to handle routine tasks such as measuring wood and etching out designs on some wooden parts. You can actually gain more business mileage by hiring staff then training them. Not only will you have time and energy to consider ways to bring in more business, but you can train your staff to become woodworking artisans as well. This is a way of "paying forward" what you learned from your own woodworking mentors.

Keep Accurate Records – You've probably heard that saying "a penny saved is a penny earned" a million times by now. And it's absolutely true. If you keep accurate records of contracts gained and payments coming in, it is easier to see the direction you are taking your business. You won't be flying blind in a meteor shower because your records are precise and correct. Your bookkeeper and your accountant will be happy to examine your books because they show your business is profitable.


Postpone Unnecessary Business Expenses – This is a very important point to bear in mind. As an entrepreneur, you will really need to control your expenses. Pay only for necessities such as hiring skilled labor and acquiring a computer since these will help you bring in money. An example of an unnecessary business expense is buying high-end computer software when you already have an Excel program running in your laptop. True, it looks so cool when you use the high-end stuff, but you can't afford it yet as a startup. Wait for more contracts to be paid by your clients before you opt to take that risk.
Conclusion
In the world of woodworking, sometimes it isn't the most talented artisan who wins. This is because your woodworking workshop should also be run as a business.
Not all artisans have the necessary business skills to survive an increasingly competitive industry. That's why you may notice your competitors struggling to bring in customers too.
If you want to win, it is very important to learn these business skills and practice them daily. The effects of using business skills regularly might not be apparent during the first few months. But eventually, you may suddenly notice that you are already profitable.
It will happen because you learned the rules of this numbers game and are now practicing what you learned regularly. So, educate yourself before you stride into battle. The prize is your company's survival.